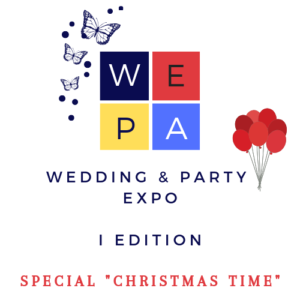 Wepa Expo – Wedding & Party Expo
is the event dedicated to the professionals who work in the world of parties, weddings & events in general.
7 and 8 December 2019
Palazzo della Borsa Valori, Genoa – Italy.
Where is Palazzo della Borsa Valori in Genoa?
A free entry exhibition fair will be set up inside the hall.
The fair is open to the couples, the families, the childrens and the youngs
who wants to collect ideas, contacts and suggestions in order to organize their party or their marriage.
To access at WEPA EXPO you have to register to the fair.
Are you a visitor?
The registrations will open soon.
If you want to contact the organizers for more information
write to: info@fastandevents.it or call 3386025435.
Are you an exhibitor or a professional?
To receive the brochure, write to: marketing@fastandevents.it or call the number + 39 3386025435.
Activities and sectors:
#wedding
#party
#ceremonies
#events
#handmadeproducts
#hobby
#creativity
PROGRAMME
Saturday 7 December, morning
WEPA EXPO CONFERENCE
TOPICS
Wedding 2.0
Innovation and creativity, two opposites or two complements?
"My dress online": influencer, fashion blogger and APPS
Digital Marketing: market innovation and future
Genoa, Liguria and Italy as Wedding Destinations
Weddings and sustainability
On Saturday and Sunday
Special "Christmas Time"!
The exhibitors will have the opportunity to show and present their products and offers
dedicated to Christmas and Happy New Year.
Entertainment for children
Fashion Show Wedding Dresses*
Workshop Wedding*
*tbc
For more information:
Fast&Events Srls
Heidi Milan
Event Manager, Wedding & Party Planner
info@fastandevents.it
+39 338 6025435